With the use of optimum resources, we are manufacturer and provider of Soapstone Powder Manufacturer in India / Talc Powder Exporter in India which is a naturally occurring steatite. It is also called as French chalk & talc stone, and comes in brilliant white and off colour. These soft white powders are known in the market for their huge applications and uses. It has extremely soft soapy feeling and the powder is very slippery.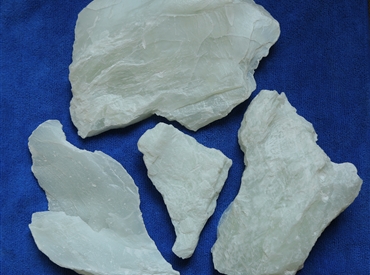 It is a mineral composed of hydrated magnesium silicate with the chemical formula H2Mg3(SiO3)4 or Mg3Si4O10(OH)2.These are obtained with best grinding process and supplied in secure packing. In loose form, it is the widely-used substance known as talcum powder. Our products are superior in quality, well processed and distributed throughout the world.
Talcum powder is widely used in cosmetic products, such as baby powder and adult body and facial powders. Also widely used to absorb moisture and cut down on friction.
Talc Powder Supplier in India
Ashirwad Talc is highly transparent, lamellar and high on plasticity and at both high & low temperatures! Our talc has high magnesium oxide content, upto 31.5%, which is highest purity available in India. We pride in the fact that Ashirwad talc can be loaded upto 84% volume in polymer compounds.
PRODUCT DATA TABLE:
PHYSICAL PROPERTIES:
Brightness (%)
Upto 99%
Particle Size
500 Mesh to 15 Microns
Specific Gravity
2.70
Tapped Density (gm/cc)
0.38 to 0.5
Mohr's Hardness
1.0
CHEMICAL ANALYSIS:
SiO2
61 to 63%
MgO
30 to 32%
Al2O3
0.8 to 2%
Fe2O3
0.85 to 1.5%
CaO
less than 1%
Loss on Ignition
3 to 4%
pH Value
between 8 to 9